We are lucky at UCF RESTORES to have a team of dedicated and passionate employees who work tirelessly to support individuals affected by trauma. While helping others regain control of their lives, our team members have a wide array of talents and interests of their own that make them essential to our clinic and our patients.
Our new Employee Spotlight Series aims to introduce our community to the diverse group of employees who make up our internal ecosystem at UCF RESTORES. Our first Spotlight features Monica Potts, LCSW and Calandra Jackson, M.A./ RMHCI/ LLPC, clinical case coordinators who are the first point of contact for many who find their way to UCF RESTORES.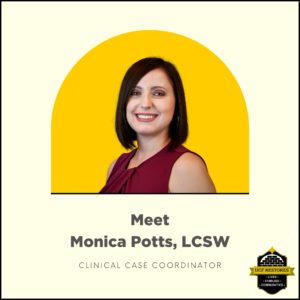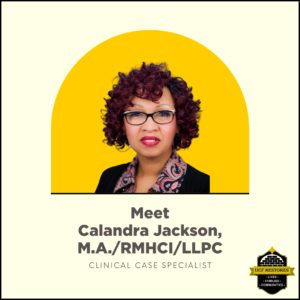 What are the duties and responsibilities of a clinical case coordinator?
Monica: Our positions at UCF RESTORES exist to eliminate the barriers to mental health treatment that exist for so many. When people reach out to healthcare facilities or mental health agencies they are often pushed around to different departments or must wait a week or more to hear from an office about scheduling. At RESTORES, I take that burden off the patients and instead serve as a central resource for any incoming questions, enrollment requests or treatment coordination needs. My purpose is to make the process of finding help easier on the patient so that we aren't adding any bumps in their road to recovery because our services don't start at the first session, but rather at the first contact with the individual. My job is to quiet [patients'] concerns and establish that initial sense of trust when guiding patients through the enrollment and treatment process.
Calandra: What I feel is particularly important about this role, is making sure everyone who reaches out feels heard and understood. Even if our services do not meet their needs, we will provide them with resources that will.
How do you work with other members of the UCF RESTORES team to create a safe, welcoming environment for each patient?
Calandra: The team and family at UCF RESTORES is a unique group of people, whose mission is the same. We want everyone we encounter to feel that we care about them and what they are experiencing, and that we're always here to help.
Monica: In order to seamlessly track every patient need and create an environment that exudes both professionalism and warmth, it is important that I maintain open communication with all UCF RESTORES staff and faculty. If someone feels the need to constantly reexplain their concerns or repeat requests, trust can be lost early on in a therapeutic relationship. For this reason, the clinical staff and faculty remain dedicated to attending multiple weekly meetings that provide time to check-in on the individual needs of each patient and their progression through the program.
What do you find to be your greatest strength, and how does it help you succeed as a clinical case coordinator?   
Monica: I pride myself on remaining organized and resourceful enough to accommodate all the administrative and clinical demands of our patients and clinic personnel. I take pride in my position and truly care about performing my duties to the best of my ability. I feel this intrinsic motivation serves the clinic and patients well as they always know I will put forth maximum effort to meet the needs of every person we serve and every employee that needs support.
Calandra: I feel my greatest strength is the ability to connect with people. Throughout my career, I have had many opportunities to work with all kinds of people from different socioeconomic status, cultures and backgrounds. These experiences taught me that most people want the same out of life: to be visible, to have their voice heard and know that they are valued.
If you could speak to someone struggling with their mental health right now, what would you say? 
Calandra: There is a light at the end of the tunnel and your tunnel could be things like work-related trauma(s), stressors, anger management, or whatever may be causing you anxiety.
Mental health counseling can be the light or resource you need, by helping and/or assisting you to discover the tools needed to get through to the other side of whatever you are currently experiencing.
Monica: Seeking help for mental health concerns is 100% OK. I would even call it admirable. Everyone throughout their lifetime will struggle with some sort of mental health concern, whether it be depression, grief, anger, anxiety, problematic behaviors, or other forms of distress. And while we can't always control life circumstances, we can have comfort knowing that there are resources in the community that are available to provide confidential support when we need it most.
If you or someone you know is struggling with their mental health and would like to request an appointment or consultation with UCF RESTORES, please contact us here or by phone at (407) 823-3910.